{BANNER_STUFF}
Introduction
Pietermaritzburg is a vibrant South African city in the breath-taking Kingdom of the Zulus. It is rich in history and heritage, with South Africans mainly speaking IsiZulu, Afrikaans, English and Indian influences. The City is a cultural treasure-trove brimming with diversity.

It is the capital city of KwaZulu-Natal and the economic hub of uMgungundlovu District Municipality. It's location in the Midlands rests as the umbilical cord of the province where 'all roads lead to the City of Choice'.

Pietermaritzburg boasts some of the best academic institutions in South Africa. It is the home of the Comrades Marathon, the Duzi Canoe Marathon, a host to the Midmar Mile, the Royal Agricultural and Garden Shows.

It offers a range of architectural heritage sites and close association with highly respectable individuals such as Mohandas Gandhi, Nelson Mandela, Alan Paton and many more.

It's location has a strong influence on regional channels of investment, movement and restructuring of the Provincial Spatial Framework for growth and development

Despite all the above competitive advantages, the City is challenged with growing unemployment, poverty and uneven development and infrastructural backlogs owed to apartheid spatial planning in the urban, peri-urban and rural areas.
Vision of the City
By 2030, Pietermaritzburg will be a safe, vibrant city in which to live, learn, raise a family, work, play and do business.
What is IDP?
Integrated Development Planning is a tool or process that the Municipality uses to produce an Integrated Development Plan (IDP), which guides and informs all planning, management and decision-making to ensure that the Municipality fulfils its service delivery, constitutional mandates and performance score-card.
Core Components of the IDP
The Municipal Systems Act 32 (2000), Section 36 states that an Integrated Development Plan must reflect:
the municipal council'; vision for the long term development of the municipality with special emphasis on the municipality's most critical development and internal transformation needs

an assessment of the existing level of development in the municipality, which 20 must include an identification of communities which do not have access to basic municipal services;

the council's development priorities and objectives for its elected term,including its local economic development aims and its internal transformation needs;

the council's development strategies which must be aligned with any national or provincial sectoral plans and planning requirements binding on the municipality in terms of legislation;

a spatial development framework which must include the provision of basic guidelines for a land use management system for the municipality;

the council's operational strategies;

applicable disaster management plans;

a financial plan, which must include a budget projection for at least the next three years; and

the key performance indicators and performance targets determined in terms 35 of section 41.
IDP Process

Processes

Phase

Outputs

Compiling existing data; consultation with communities and other stakeholders; analysing and agreeing on priorities.

Agreeing on vision and objectives on priority issues; debate/decision on appropriate strategies; application of policy guidelines in local content.

The municipal vision; objectives and strategies.

Formulation of project proposals.

Project targets; location; time schedules; outputs; budget estimates; performance indicators.

Screening, adjusting, consolidating and agreement on project proposals; compiling Integrated programs.

Five year financial plan; Five year capital investment programs; Integrated Spatial Development Framework; Integrated sectoral programs; Consolidated monitoring performance management system; Disaster Management; Institutional Plan.

Inviting and incorporating comments; adoption by Full Council.

An approved IDP for the municipality.
Developmental Philosophy & Approach
This process is guided by public and stakeholders' inputs; municipal and national targets; the State President, Premier and Mayor's state of addresses or policy statements. Through these inputs, a consolidation process is undertaken to develop and refine developmental strategies and various operational plans to bring about financial, technological, infrastructural, social, institutional, environmental and spatial solutions towards the realization of the municipal strategic vision.

In order to transform some of the public needs, complaints and concerns raised by members of our communities, the Community Based Process (CBP) as a development tool will be used to channel our development energies towards ward based development plans and budgeting process. This approach will be based on reputable statistical data and feasibility studies conducted to respond to our developmental challenges and needs.
IDP Benefits for Stakeholders

Stakeholder

Benefits

Clear and accountable leadership and development direction.

Opportunity for councillors to measure their own performance.

Opportunity to contribute to municipality's vision.

Communities & other Stakeholders

An opportunity to articulate development needs and measure performance of Municipalities.

National & Provincial Sector Departments

Guidance to proper service and resource allocation.
Public & Stakeholders Comments
What is your vision/dream of the City of Choice in 20 years from now?

Where do you think are the most priorities of the City and why?

If you can be requested to assist the City to achieve its Vision, what role and expertise that you can share to realize our City's objectives.
Quality of Life Survey
Residents of Msunduzi, have your say!

Msunduzi Municipality will be conducting the Quality of Life Survey during the month of March 2016.

The survey aims to gain a better understanding of the quality of life status of the communities in the Msunduzi area. The survey focuses on housing, household services, roads and transport, community services, billing, communication, municipal performance, personal well-being, economic and household profiles. The information collected will assist the Msunduzi Municipality with compiling and coordinating the Integrated Development Plan (IDP). This is to plan and prioritise community development programmes and projects to enhance municipal service delivery.

The Msunduzi Municipality appeals to all residents to welcome and co-operate with the field workers when they come to visit your household and give them 30 minutes of your time answering their questions accurately.

The fieldworkers can be identified easily by their white t-shirts, with the Msunduzi Municipality logo stamped on the top left pocket.

For more information, please contact the Msunduzi Municipality IDP office on 033 392 2033/2420.
Mayor's Address - A Success at Izimbizo 2015

During the festive season of December 2015, Vulindlela, Imbali, Edendale, Central and the Northern area communities of Pietermaritzburg were among the proud hosts of the Honourable Cllr Chris Ndlela and the Msunduzi Municipality for the Mayoral Izimbizo 2015.

At these events, the Mayor delivered speeches relating to the Integrated Development Plan (IDP) and the progress of the service delivery in the Msunduzi areas. Despite the uneven development, unemployment, poverty, water and electricity challenges currently faced by South Africa, progress has been evident in areas such as Edendale and the Vulindlela district where communities had water pipes and sewer systems upgraded for the consumption of clean drinkable water as well as toilet systems that enable convenience and hygienic living standards. In addition, "the municipality has been able to decrease the backlog of households without access to piped water from 6396 households to 4259 households," reported the Mayor.

Among the good news was also the upgrading of gravel roads to tar, rehabilitation of roads and youth employment opportunities for FET college Plumbing graduates in the water and sanitation projects; to highlight the municipality's commitment to combating the aforementioned challenges in Pietermaritzburg.

The local residents showed up enthusiastically in wide numbers, to hear their Mayor and various members of the Municipality speak on the improvement of service delivery and introduce further plans to make Pietermaritzburg a globally competitive metropolitan city where its people are presented with the quality of life.

After the serious talking sessions about service delivery and the governance of the city, the residents in attendance were treated to entertainment from Maskandi legend, Phuzekhemisi for a cheerful ending to a successful and informative Imbizo.
INVITATION
TO: ALL STAKEHOLDERS
______________________________________________________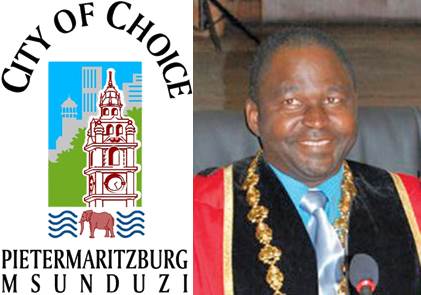 His Worship, The Mayor, Councillor Chris Ndlela cordially invites you to attend the Msunduzi Mayoral Imbizo. The following is the structured public participation program to be attended by relevant stakeholders and interest groups:
Date

Time

Venue

05 December 2015, Saturday

VULINDLELA
Ezibovini Sports Field, Ward 04

EDENDALE
Azalea Sports Field, Ward 10

08 December 2015, Tuesday

CENTRAL
Grange Hall, Ward 24

12 December 2015, Saturday

IMBALI
Spikon Ground, Ward 17

NORTHERN AREA
N Hadebe Sports Field, Ward 35
All stakeholders are invited to attend these scheduled sessions in order to participate towards the final reviewed IDP that will be implemented in the 2016/ 2017 financial year.
The Honourable Mayor
Councillor Chris Ndlela
Msunduzi Municipality
2016-02-11
Copyright

©

2018 Msunduzi