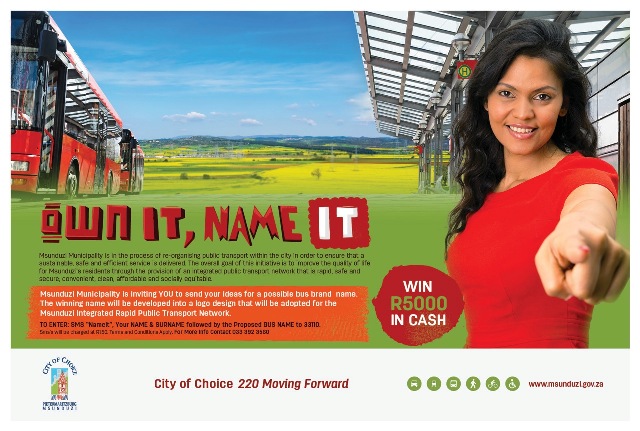 BACKGROUND
Msunduzi Municipality is in the process of re-organising public transport within the City in order to ensure that a sustainable, safe and efficient service is delivered. This service is in line with Government's Public Transport Strategy and Action Agenda as approved by Cabinet in 2007 where twelve major cities have been mandated to develop and implement fully integrated public transport networks over the next 15 years.

The overall goal of this initiative is to improve the quality of life for Msunduzi's residents through the provision of an integrated public transport network (IRPTN) that is rapid, safe and secure, convenient, clean, affordable, and socially equitable.

VISION
"To advance 'The City of Choice' through affordable, sustainable and integrated public transport mobility and accessibility for all people throughout the Msunduzi Municipality, in terms of an Integrated Rapid Public Transport system focused around the Edendale-Northdale Corridor."

MISSION
"To promote public transport and non-motorised transport along the Edendale / Northdale Corridor by improving infrastructure and services through integrated transport and land use developments."

IRPTN
Integrated Public Transport refers to five modes of transportation, namely: Rail, Bus, Minibus taxi and Metered taxi and non-motorised transport. The IRPTN incorporates a Bus Rapid Transit (BRT) system, which is a high frequency road based bus system that consists of trunk, complimentary and feeder services to provide a modern, well-maintained, comfortable and efficient system. The BRT system, as a major feature of the IRPTN will integrate with existing transport modes to improve and simplify commuter's trips.

The IRPTN is the most significant initiative that has been recently undertaken in Msunduzi. From the initial demand estimation there is a well-defined west to east corridor from Edendale to Northdale with a level of demand justifying dedicated Right Of Way (ROW) from Georgetown to Northdale. The BRT route will traverse the CBD along Church Street.

KEY FEATURES:
High demand corridor - Bus Rapid Transit

Support network - Quality Bus Service (QBS)

Dedicated lane

Feeder routes -Mini Bus Taxis / Bus Feeder Service

BENEFITS
The IRPTN is an innovative public transport solution that will deliver:
Integration of existing modes of transport to simplify commuters' trips

Upgraded fleet, facilities, stops and stations

Services from early morning to late evening

Electronic Integrated fare Management System

Safe and secure operations

Non-motorised transport facilities

Rapid, dedicated bus lanes

Universal Access
For More Information Contact: Ms Ntokozo Nkosi at: 033 392 3560
Copyright

©

2018 Msunduzi